Today's Safest and Most Efficient Clothes Dryer Transition Duct
The Past
For years, two types of 4" clothes dryer transition ducts have been available: "slinky" foil and semi-rigid aluminum. Each features unique benefits as well as disadvantages for both installers and homeowners.
"Slinky" foil is very easy to work and can fit in tight spaces because of its flexibility. However, its flammable Mylar coating and abrasive, airflow-disrupting 3.25" inner diameter make it dangerous and inefficient.
Semi-rigid aluminum sometimes has an good flame rating and a full 4" opening to maximize airflow efficiency. Because of the rigidity of this material, semi-rigid ducts are harder to bend in tight areas and the material deforms, or it crushes easily when pressure is applied.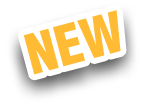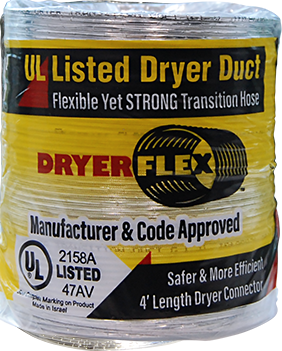 The Best of All Worlds
Multiple layers of 100% Aluminum Ribbon, that is tightly wound over hot galvanized zinc coated wire, is what gives DryerFlex
®
the workability of "slinky" foil flex while maintaining the airflow efficiency of semi-rigid. DryerFlex protects against flame spread where foil flex fails. And, DryerFlex is crush resistant whereas semi-rigid crushes easily and impedes airflow, often to a dangerous degree (dryer fires).
The Present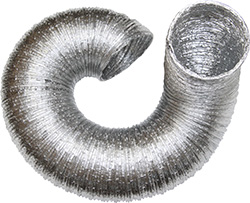 With common transition ducts having some pros and cons, it was time to create a product that featured the best of both worlds. Today, DryerFlex is the only UL-2158A transition duct available that's as flexible as foil yet features the same airflow efficiency and fire safety as semi-rigid aluminum.
DryerFlex retains a full 4" opening whether compressed or stretched which helps ensure continuous airflow without creating lint catching points. Because of its tight turns, using DryerFlex can often eliminate the need for a hard 90 degree elbow making your overall duct run shorter and more efficient.
Tested by Inspectors
"DryerFlex dryer transition duct is a cross between foil and semi-rigid aluminum, but it outperforms both of those materials in every way possible. We feel it's a far better transition duct than anything that's available at home improvement stores."
– Reuben Salzman, ASHI Certified Inspector
The Future
With more than 14,000 reported dryer fires a year, it becomes critical to use the highest rated products for both airflow efficiency and dryer fire prevention. Having DryerFlex professionally installed to connect your clothes dryer is a simple way to be proactive and know your dryer is venting as safely as possible.
DryerFlex: Safe, Efficient and Easy to Install