During product development and the certification process, DryerFlex® was subjected to extensive lab testing. This testing helped find the right combination and thickness of aluminum ribbon layers, density of galvanized steel wire and a manufacturing process that delivered high quality and ensured maximum crush and flame spread resistance. The result is a transition duct unlike any other that is as workable as (flammable) slinky foil and resilient unlike semi-rigid (which crushes easily and is prone to punctures and tears).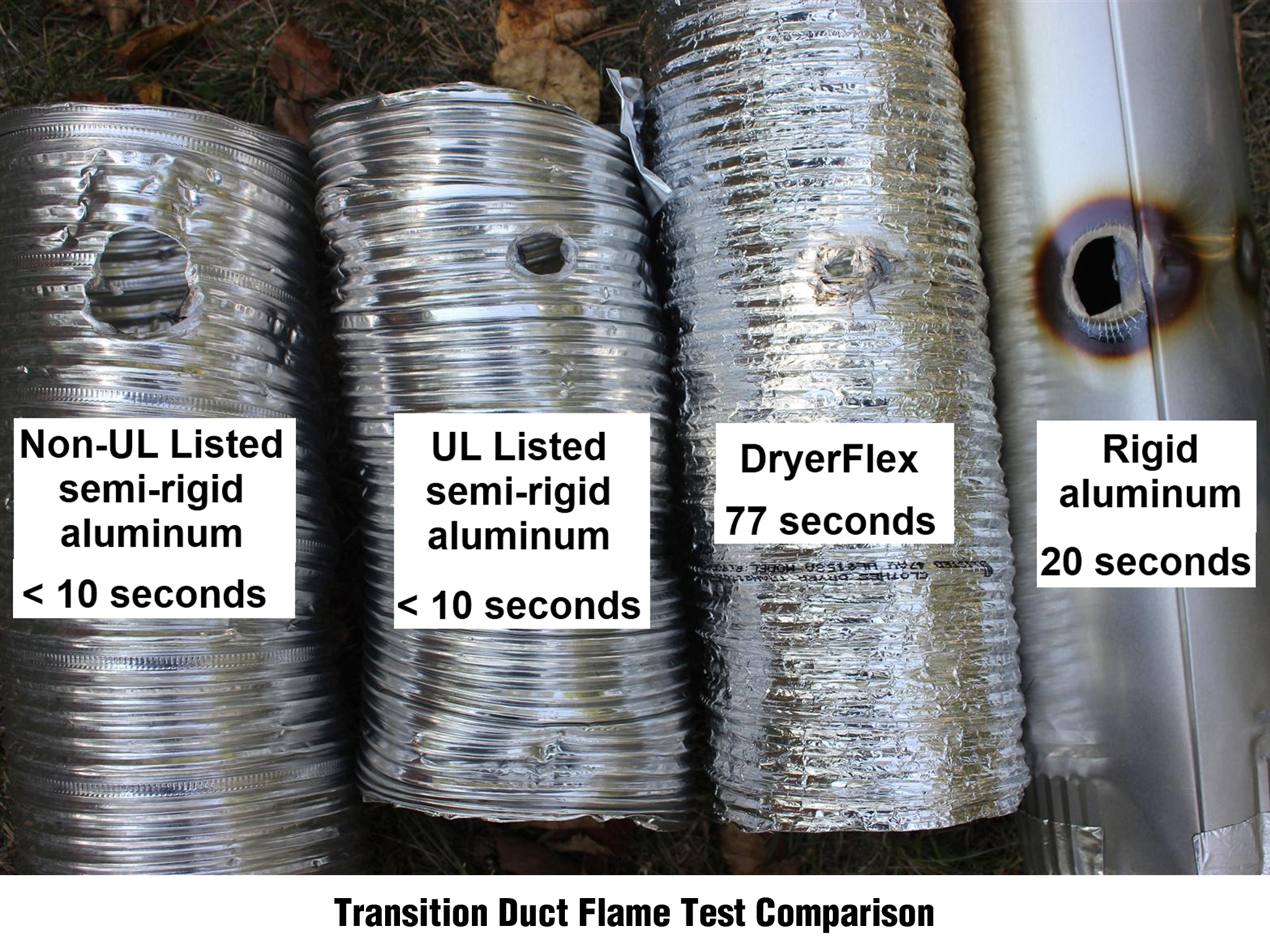 Flame Spread Testing
One of the most demanding tests completed for DryerFlex in this process was testing to see how it would withstand extreme heat from direct flame exposure. The test duration was 10 minutes. The fire's heat exceeded 660 degrees F.
Over the course of the test, the lab confirmed zero flame spread:
| | |
| --- | --- |
| Calculated Flame Spread (CFS) | 0.00 |
| Flame Spread Index (FSI) | 0 |
| Maximum Flame Spread (ft) | 0.0 |

Smoke Development Testing
The testing also sampled air for smoke development with findings of zero smoke development:
| | |
| --- | --- |
| Calculated Smoke Developed (CSD) | 0.0 |
| Smoke Developed Index (SDI) | 0 |
| Area Under the Smoke Curve (Obs-min) | 0.00 |
In order to complete the testing for certifications, it was also subjected to bending, corrosion resistance, puncture, impact, tension and torsion tests. In all cases, DryerFlex met or exceeded standards making it a standout above all other options for properly venting a clothes dryer.
Bending Tests
Subjected to bending tests that determined it will not rupture, break, tear, rip or separate under heavy pressure around a 180 degree arc with a 10 time frequency.
Corrosion Tests
This testing requires that DryerFlex be confined to a salt-spray fog chamber at a humidified air pressure of 17 to 19 pounds per square inch gauge so that salt water is aspirated as a fine mist inside the chamber over 720 hours without noticeable corrosion effects.
Puncture Tests
Placed in a plunger apparatus that drops a 62" x 3/8" plunger from full height (applying a weight of two pounds) a minimum of three times and the wall of the duct was not penetrated.
Impact Tests
DryerFlex had to withstand the impact of a 15 pound sand bag dropped a distance of 2 feet without any damage as a result of the impact including no ruptures, breaks, tears, rips, collapse or separation.
For more detailed information on how DryerFlex is built, please check out the specifications page.