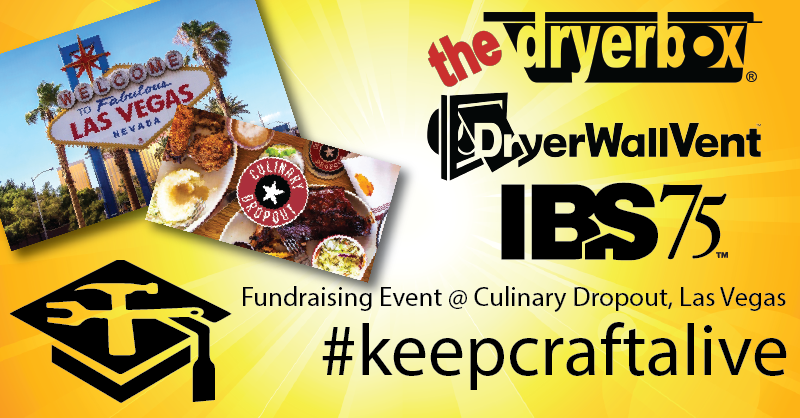 Continuing the momentum for our partnership with Fine Homebuilding's #keepcraftalive scholarship initiative, we want to remind you to sign up for the fundraising event at IBS 2019 in Las Vegas! This fundraising event sweeps into its second year. Taking place at Culinary Dropout on February 20th from 5:30-8:00, you can hobnob with industry experts, Fine Homebuilding editors while imbibing and noshing. There will be prizes and swag bags, so you will always remember the good investment in this country's future. 100% of the net profits will be donated to the Fine Homebuilding® #KeepCraftAlive® scholarship fund with SkillsUSA to assist in lessening the skills gap and help generate the next generation of craftsmen and women. What's even better? Fine Homebuilding will be matching all donations dollar-for-dollar! Help reach their $10,000 goal!
Here's the information from the signup page:
Join Justin Fink and the editorial staff of Fine Homebuilding, along with our Brand Ambassadors, and industry experts from This Old House, Tom Silva and Rich Trethewey, for an evening of networking, fundraising and giveaways from the best brands in building! Come show your support for #KeepCraftAlive after IBS, and enjoy draft beer, handcrafted whisky cocktails, tasty pub food, cool swag bags and over $2,000 worth of giveaways (tool-belts, quality tools, Yeti® cooler, #KeepCraftAlive merchandise and more!).
100% of ticket sale net profits from this event will be donated to the Fine Homebuilding #KeepCraftAlive Scholarship Fund with SkillsUSA in order to help close the skills gap and support the next generation of craftsmen and women. Fine Homebuilding will also match donations dollar-for-dollar up to $10,000.00!
Register today! Early bird registrants receive a price discount.
P.S. Donate an additional $50 or more to the Scholarship Fund and receive a FREE #KeepCraftAlive T-shirt or hat, plus a Fine Homebuilding subscription!
Sign up here: https://www.eventbrite.com/e/fine-homebuildings-keepcraftalive-fundraising-event-tickets-54779011498